Pacific Standard Time: Art in L.A. 1945—1980
A collaboration of over 60 cultural institutions across Southern California, coming together for six months from October 2011 to March 2012 to tell the story of the birth of the Los Angeles art scene and how it became a major new force in the art world. To engage consumers beyond the traditional gallery goers, we celebrated the impact of this prolific era, by revealing surprising links between the art of the past and today's leading cultural icons.

Each participating institution made its own unique contribution through a multitude of simultaneous exhibitions and programs. Exploring the significance of the crucial years after World War II through the turbulent 1960s and 1970s, Pacific Standard Time encompassed developments from painting and sculpture to multi-media installation; from L.A. Pop to post-minimalism, including works by Judy Chicago, Charles and Ray Eames, John Baldessari, Ed Ruscha and more.


As a born and raised Angeleno, this project was particularly special to me, as it celebrated the city that has influenced so much of my work and creativity.



Film | Ice Cube Celebrates Eames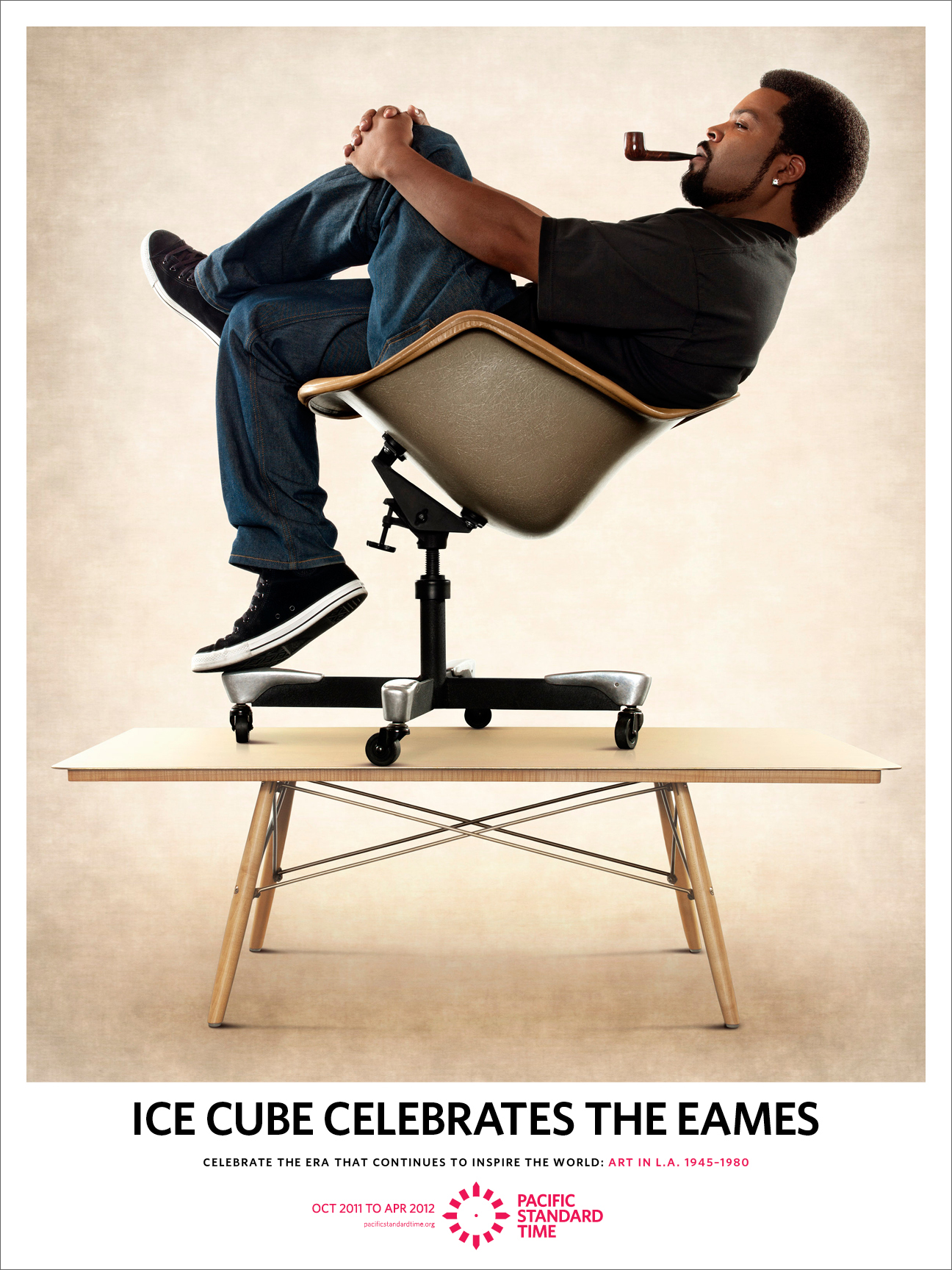 Poster | Ice Cube Celebrates Charles and Ray Eames
Film | Anthony Kiedis Celebrates Ed Ruscha
Poster | Anthony Kiedis Celebrates Ed Ruscha
Film | Jason Schwartzman Celebrates John Baldessari



Poster | Jason Schwartzman Celebrates John Baldessari
Pacific Standard Time Website

The Pacific Standard Time website was the hub of this region wide event, with all the museums and exhibitions in one place. It gave visitors the tools, search options and personalized recommendation functionality to help them navigate their way around the hundreds of programs associated with Pacific Standard Time.

Pacific Standard Time My Time
My Time was a personalized recommendation engine that helped visitors find the exhibitions most relevent to them based on their tastes and interests.



Pacific Standard Time Exhibition







Pacific Standard Time Logo & Graphic System


New York magazine Approval Matrix - Highbrow&Brilliant


Awards and Accolades

2012 Gold One Show Pencil – Online Web Series

2012 Silver Art Director's Award – Integrated Campaign

2012 Gold International Andy Award – Best Use of a Celebrity

2012 Silver International Andy Award – Single Web Film

2012 Silver International Andy Award – Online Web Series

2012 D&AD In Book – Cinematography

2011 Creative Review Pick of the Year

Creativity Online #9 Best Campaign of 2011